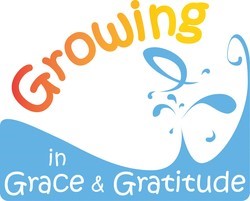 Growing in Grace & Gratitude
Here is a very
short video
to help get the word out about a PC(USA) curriculum
A Presbyterian Church (U.S.A.) denominational children's curriculum will help transform the lives of children and those who love them, shaped by grace and gratitude.
Growing in Grace & Gratitude is rooted in the foundation of Presbyterian identity where God's grace and our gratitude are the heartbeat of our faith, life, and worship. The curriculum extends an invitation to discipleship that inspires children to learn and practice hospitality, generosity, and love, and it reaches beyond Sunday morning, encouraging children to live their lives as an expression of God's grace.
Published by Congregational Ministries Publishing, Growing in Grace & Gratitude is a quarterly curriculum available in English and Spanish. Each session shares a Bible story that reveals God's grace for us. Through fun, age-appropriate activities, prayer, and singing, children and their leaders will celebrate the meaning of this grace in their lives as they encounter a living God.
"This is the way you teach Reformed faith to children," said Lib Caldwell, noted Presbyterian educator and professor emerita at McCormick Theological Seminary. "With thoughtful biblical background for the teacher and age-appropriate learning activities, children will grow in their understanding of God's grace as it is revealed through biblical stories."
Churches can try Growing in Grace & Gratitude for free by ordering a sampler in English or Spanish at pcusastore.com.
Congregational Ministries Publishing is the denominational curriculum publisher of the PC(USA). Its mission is to bring glory to God by inspiring, equipping, and connecting Presbyterians of all ages with faithful, affordable, educational resources that further commitments to live as disciples of Jesus Christ.