Presbyterian Disaster Assistance (PDA) is the emergency and refugee program of the Presbyterian Church U.S.A. The core budget, including staff and administrative costs, is funded through the One Great Hour of Sharing, and its program work is additionally funded through designated gifts.
Presbyterian Disaster Assistance
Focuses on the long term recovery of disaster impacted communities.
Provides training and disaster preparedness for presbyteries and synods.
Works collaboratively with church partners and members of the ACT Alliance (Action by Churches Together) internationally and nationally with other faith based responders.
Connects partners locally and internationally with key organizations active in the response — United Nations, NVOAD (National Voluntary Agencies Active in Disaster), World Food Program, Red Cross, FEMA and others.
Give
One Great Hour of Sharing
Your gifts to this offering provide core funding for the work of PDA, enabling immediate response to national and international disasters and strengthening ongoing work such as training and development, refugee ministry, and response to disasters that do not receive media attention.
One Great Hour of Sharing funds are divided equally among its three programs: Presbyterian Disaster Assistance, Self-Development of People, and Presbyterian Hunger Program.
http://specialofferings.pcusa.org/oghs.html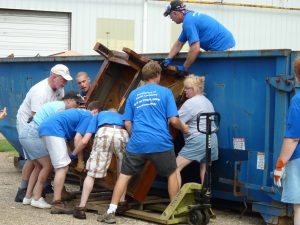 Faith in Action
Act
Responding to people in need is a natural way of showing Christian love. Over the last five years volunteers have answered the call to serve and have put their faith and love into action by giving more than 965,500 hours (with a value of more than $22,274,500) assisting communities affected by a disaster turning the chaos of disaster, into an image of hope.
Presbyterian Disaster Assistance (PDA) is very thankful for the tens of thousands of people who proudly wear blue t-shirts earned through the sweat equity they invested through their gifts of time and talents. Because of their gifts, hundreds of people have returned to their homes and are welcoming a "new normal" in their lives following disaster.
We are asking once again for people to stand in the gap with volunteer work teams. Numerous disasters—both large and small—have occurred over the past few years; news of the disaster has long since left the headlines, but many families are still outside of their homes or living in damaged homes as they struggle to rebuild.
Volunteers serve with PDA in a variety of capacities and commitment levels.
For current situations–   Check out the National/International Disaster Response map link-  https://pda.pcusa.org/situations/national/

Stay informed by subscribing to the PC(USA) e-newsletter and checking the PDA Rapid Information Network Box  https://www.pcusa.org/subscribe
Follow PDA on
 https://www.facebook.com/PDACares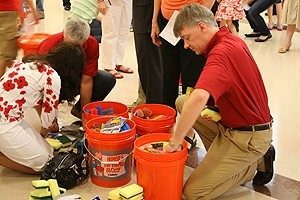 Assemble Kits
Clean up bucket
Hygiene Kit
School Kit
Or donate to Gift of the Heart to financially support the purchase of kit contents https://pda.pcusa.org/page/kits/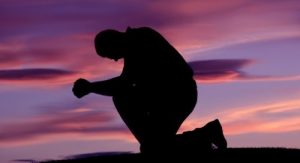 Pray
Our best response is prayer. 2nd Thessalonians 5:17 encourages us to pray continually. Following a disaster, our best response is first to seek God's presence on behalf of those in need.
Prayer and worship resources https://pda.pcusa.org/page/pray/
---
Presbyterian Disaster Assistance – Presbyterian Women
Disaster Preparedness Training
---
NEW FROM NEW ORLEANS
Project Homecoming "Village" hit by tornado that struck New Orleans East – it was extensively damaged – staff there was able to huddle in an interior room – only one undamaged
Many of us are familiar with the Village either receiving orientation there or staying there while doing volunteer work tornado was half a mile wide/ wobbling along the ground for 2 to 3 miles
George
From The Front Room – Rochester NY US
read and see the report – CLICK HERE To View