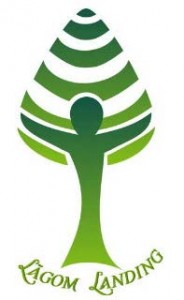 Lagom Landing emerged out of love for young people and a deep concern that their voices and needs be heard and met in the church.  The nine-month program offers practical skills to young people, while also helping them discern their future through exploring spiritual disciplines and community living.  Monthly potlucks and occasional workshops are also offered to the public, and you are welcome to sign up for e-mailed event updates (http://lagomlanding.com/who-we-are/newsletters/).  Lagom Landing feels blessed to have received the Presbytery of Genesee Valley's support, and they hope to be a blessing to the churches and other groups associated with the presbytery by providing space for retreat, reflection, and learning.  Please feel free to contact Rev. Laurel Nelson ([email protected]) with any questions, and/or log onto Lagom Landing's website for more information:  www.lagomlanding.com.
---
Grant Title:  "Tapping into God's Sweet Love in our midst!"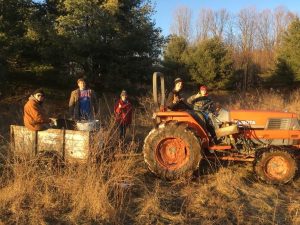 Chris McCarthey, a new friend from Rochester, joins the Lagom Landing crew in tapping our trees mid-January. Chris heard about this opportunity through extra publicity supplied by the grant.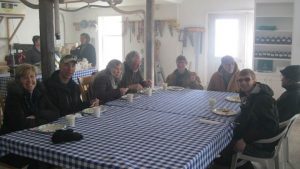 Sarah and Matt Smith (far left), Presbyterians from Amherst, join the Lagom Landing crew and other friends for pancakes on Backyard Maple Day. Matt has helped us throughout maple season and was a direct connection made possible by the grant.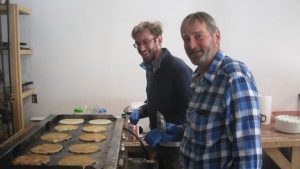 Our Faithful Father-Son Flippin' Crew, Joshua and Jim Murphy, efficiently work the propane griddle, rented through the grant.  Joshua went through the Lagom Landing program in 2012-2013, and serves as Secretary for the Board.
---
UPCOMING EVENTS:
Lagom Landing Update and Pig Roast
---